Categories
Previous Weeks
Columns
Features
Audio
Resources
WebTools
Java Resources
Downloads
History Of Byte

Feedback
Write to Byte

Newsletter
Sign Up Now

Print Archives
By Issue By Topic
BYTE Humor
Ian Shoales' Page

About Us
Byte Editorial Staff
Feedback
Sales Staff
Privacy Policy
Sponsored by:

Byte.com
Bank Systems
& Technology
CMPmetrics
eBusiness Expo
File Mine
InformationWeek
Insurance & Technology
InternetWeek
Network Computing
PC Expo
Planet IT
TechCalendar
TechEncyclopedia
TechLearning
TechShopper
TechWeb News
TechWeb Today
Wall Street & Technology
WebTools
Winmag.com
---
---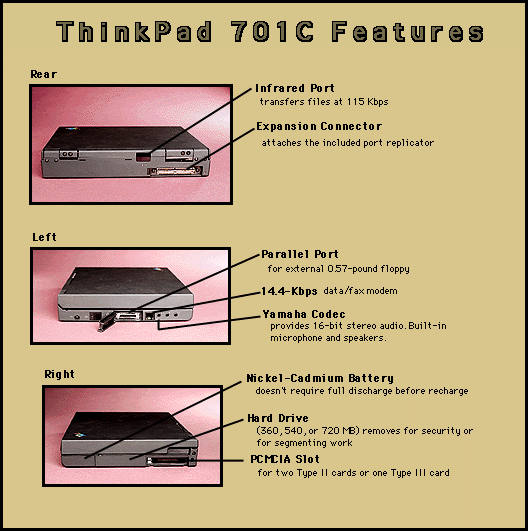 -- Infrared port transfers files at 115 Kbps.
-- Expansion connector attaches the inclu ded port replicator.
-- Parallel port for external 0.57-pound floppy drive.
-- 14.4-Kbps data/fax modem.
-- Yamaha Codec provides 16-bit stereo audio. Built-in microphone and speakers.
-- Nickel-cadmium battery doesn't require full discharge before recharge.
-- Hard drive (360, 540, or 720 MB) removes for security or for segmenting work.
-- PCMCIA slot for two Type II cards or one Type III card.

---